Dr. Sabrina Lemire-Rodger
Psychologist (On Leave)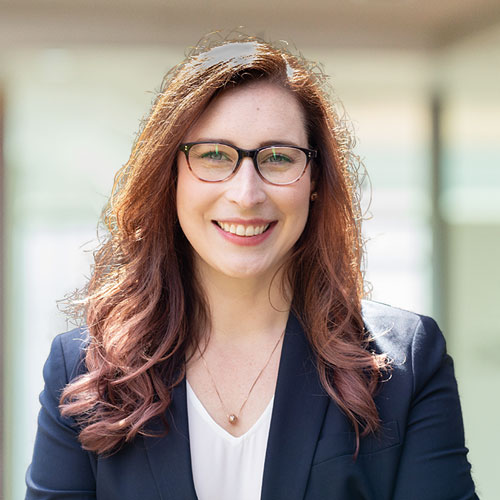 Dr. Sabrina Lemire-Rodger provides assessment and therapy services across Toronto Brain Health's many programs, including concussion, acquired brain injury, healthy aging and dementia, and psychological health. She has worked with individuals with depression, anxiety, trauma, concussion, brain injury, spinal cord injury, age-related memory changes, mild cognitive impairment, dementia, caregiver burden, epilepsy, cancer, and more. Dr. Lemire-Rodger is trained in Cognitive-Behavioural Therapy (CBT), Emotion-Focused Therapy (EFT), Humanistic Therapy, and Mindfulness-Based Stressed Reduction (MBSR). She also provides cognitive training for individuals experiencing issues with their memory, ability to focus, or organizational and planning skills. Her approach is client-centered, empathic, and evidence-based. She believes in using science to help clients realize their full potential in their everyday lives.
Dr. Lemire-Rodger is a graduate of York University's Ph.D. program in Clinical Psychology and Clinical Neuropsychology. Before joining Toronto Brain Health, Dr. Lemire-Rodger completed her predoctoral residency in the Neuropsychology and Cognitive Health program at Baycrest Health Sciences and the Neuropsychology Clinic at the Krembil Neuroscience Center at UHN's Toronto Western Hospital. She has experience in comprehensive neuropsychological assessment, individual and group-based psychotherapy, as well as individual and group-based cognitive intervention. She previously completed practical clinical training at the Toronto Rehabilitation Institute, where she provided psychotherapy and neuropsychological assessment services to individuals following an injury or illness. She also provided one-on-one psychotherapy to young adults at the York University Psychology Clinic, where she helped clients through stressful life events, mood issues, and past trauma.
For over a decade, Dr. Lemire-Rodger has studied the brain. Her research has focused on attention, reasoning, memory, executive functioning, and cognitive control. Her doctoral dissertation examined how the brain regulates our ability to pay attention and shift between different tasks. She is the recipient of multiple awards, including the Frederick Banting and Charles Best Doctoral Award from the Canadian Institutes of Health Research and the Queen Elizabeth II Graduate Scholarship in Science and Technology. Prior to pursuing clinical psychology, Dr. Lemire-Rodger studied thinking abilities in animals, including monkeys and dolphins.
Dr. Lemire-Rodger works with adults of all ages (18-90+) and is a member of the Canadian Psychological Association, the Ontario Psychological Association, the National Academy of Neuropsychology, and the Society for Neuroscience.