Lily Jaimes
Psychometrist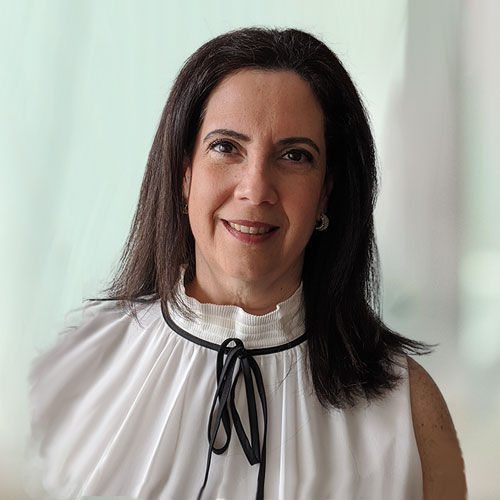 Lily Jaimes provides psychometric and intake assessment and coordination services at Toronto Brain Health. She brings with her a wealth of training and experience in the areas of assessment, intervention and service coordination with individuals who have sustained a traumatic brain injury.
Lily trained and registered as an Educational Psychologist in Colombia where she worked with children and young adults for 7 years. She subsequently completed two degrees in the United States, a B.A. Hons. in Elementary Education an M.A. in Special Education (with an emphasis on Specific Learning Disabilities) under a Fulbright Scholarship. She subsequently returned to Colombia where she developed and implemented public and private sector training programs including the first M.A. level course in assessment and treatment of Specific Learning Disabilities, as well as teacher training in several treatment modules in school settings.
​
Since making Toronto her home in 1995, she has worked in various capacities with several teams providing services to or facilitating research predominantly in people with traumatic brain injury. She was employed as a psychometrist at the Hincks Dellcrest Treatment Centre and in several neuropsychology private practices in Toronto. For 8 years she worked as a psychometrist and then as a service coordinator in the Neurology Service at Toronto Rehabilitation Institute, a multidisciplinary fee-for-service outpatient program for individuals who sustained a head, brain, neck or other neurological injury, usually through a work-related accident. She was subsequently seconded to the Research Program at the University of Health Network (UHN) by the Cognitive Rehabilitation Sciences Lab, directed by Dr. Robin Green. As a research psychometrist she was an integral team member in multiple lines of research which involved followed patients during the subacute and chronic stages of brain injury. She was also involved in other lab research on chronic traumatic encephalopathy (adult to geriatric populations); accelerated aging due to multiple concussions with alumni of the Canadian Football League; the effects of mild traumatic brain injury on adult and paediatric populations; and the impact of "environmental enrichment" following traumatic brain injury. Lily further provided cognitive behaviour therapy (CBT) in group settings or via telephone as part of a study examining the efficacy and maintenance of CBT in the treatment of emotional distress after acquired brain injury. Prior to retiring from UHN in 2020, Lily worked with the Telerehab Centre for ABI, a novel centre created in 2017. The centre delivers virtual treatment province-wide to patients in the chronic stages of recovery from various causes of brain injury who have limited access to treatment. Her role included telephone neuropsychological screening/assessment as part of the intake process and delivery of group CBT with 1 and 5 month follow-ups.